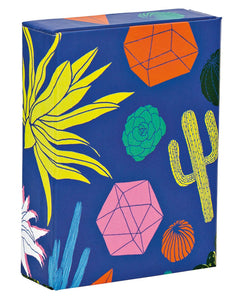 Cactus Party by the french artist who goes by Hello Marine is bold and fun with geometric shapes with on trend bold blue, aqua and neon yellow details. An update to the eighties party aesthetic we all love. 

Our little portable box is giftable and great for travel, fits in any bag and the magnetic closure keeps the cards together between games.

Standard deck of 54 playing cards including 2x joker cards
Full-color, richly -printed artwork on embossed, blue-core card stock
Giftable flip-top box with magnetic closure
Box measures: 3.75 x 2.75 x 1"